Manage accounting work requests with ticketing
Ticketing is another puzzle piece you can add to Koho PSA in order to manage your company's work requests in one centralized system. Manage communication with your clients efficiently and make sure, that everything gets done.
Ticketing takes your customer service and work management to a new level
With ticketing, customers can send work requests straight into your specialist's work list, either through the collaboration Portal or via email. Ticketing enables better customer communication by focusing it within one interconnected tool and making sure, that every request is cleared.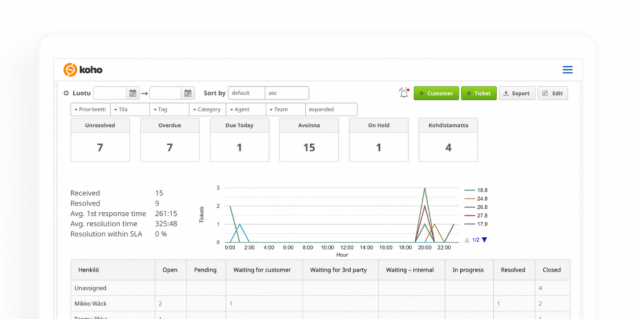 Features
Receive tickets through email or the Portal
Ticketing comes with SLA Management
Track and measure response and resolve times against your SLA
Set up responses and the timeline when the ticket needs to be resolved
Monitor how your team stays on schedule
Ready-made responses – save replies to frequent tickets and use them later
Track and bill time used on processing tickets
Supervise important tickets and receive notifications on any events regarding the ticket
Configure and save the order in which tickets are shown to you
Why is ticketing beneficial?
Better customer communication
Stay on track with what your customer is talking about by quickly checking the previously sent tickets. Especially when filling in for your colleague, it is important be aware of what has been previously discussed.
Prioritize tasks
When using only email, older messages often get forgotten and are left unresolved. Ticketing provides an easy overview of the status of your tasks and thus helps to improve customer satisfaction.
Track & invoice
Track how well employees stay on schedule, processing time of a ticket, and when tickets are late.
You can also track the time spent on a ticket and turn it directly into an invoice.
Cooperate
If the designated person can't handle a ticket for some reason, it's not a problem. You can easily share tickets to other employees. This way messages sent by customers are not left in absent employees' mailboxes unattended.
Ticketing
Available in the Business+ package
SLA-management
Business hours
Automatic responses
Timing
Mass editing of tickets
Email notifications
Track tickets and get notified of changes and progression
"Koho PSA's ticketing helps my work management tangibly. Customer communication doesn't get mixed up with my personal messages and newsletters in my mailbox, and I get work done more efficiently.

Also, no work time is wasted by looking for important customer messages."
– Jukka-Pekka Inkinen, Finansio
Would you like to have a better look?
Request a free demo!
Book a free demo, no strings attached, and let Koho PSA convince you. You can save up to 87 % in invoicing with Koho PSA. The demo will give you a better view on how Koho PSA will help your accounting company succeed.