Better accounting business with proper reports
Get easily accessible and comprehensive business reports for your accounting firm in an understandable format. Find the most commonly used key figures and graphs in the ready-made report view. Adjust the view by using various filters.
Monitor your business' key figures
View the most important key figures of your business in an illustrative form, for example as a graphical, listing, or matrix report. Find your essential data displayed with graphs in ready-made report views. Narrow the view with criteria that are important to you.
If needed, export the reports to an Excel sheet or as a pdf.
Employee profitability
Track in real-time all working hours, projects, and billing on an employee level.
Project profitability
Koho PSA lets you evaluate how profitable a project is for your company. Monitor projects on an individual or multi-project level.
Customer profitability
Track customer profitability by individual, segment, hourly billing rate, hourly profitability, and billing history.
Cash flow forecasting
With just a click, you'll know when new deals start to generate income and how much your contract portfolio contributes to cash flow.
Workload tracking and budgeting
Keep track of time budgets set for work assignments or projects, and compare it with the work time assigned to employees. You can easily see how heavily an employee's working time is loaded and utilize resources better.
Commission reporting
Assign a commission calculation according to certain rules.
Custom reports and BI reporting
Need a specific kind of a report? Can do. You can have all your reports in Koho PSA or export the data to an external BI system using our REST interface.
User reporting
Each user can monitor their own working time and improve their time management by using Koho PSA's comprehensive reporting outlook.
Real-time monitoring of key figures
Monitor sales forecast, track contracts & quotes (accepted/rejected), and compare the actual outturn (this year vs. last year, also by product).
Export reports of any data found in Koho PSA – a wide variety of reporting options
Timesheet reports
1. Billable hours
2. Internal hours, actual hours
3. Workload report: resourcing tool for projects and recurring work
4. Procedures: late or upcoming
5. Recurring work
Business day reports
Weekly, flexitime, vacations, interpretations
Disparity in hours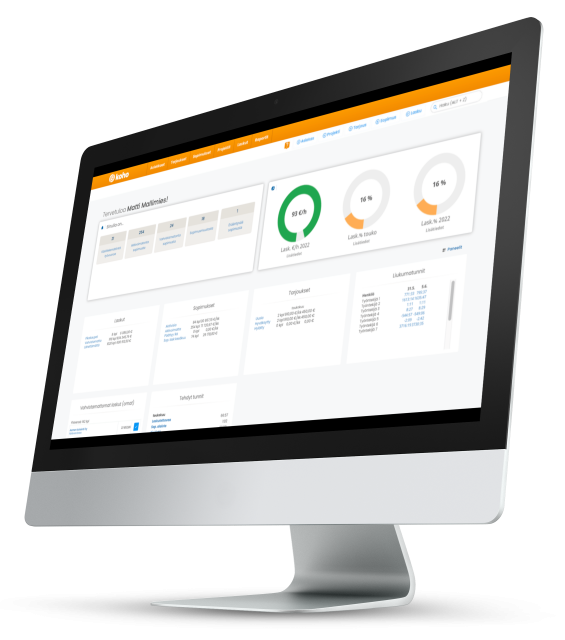 Billing reports
Customer invoicing: different time intervals, margins, products, cost objects, %, by customer, by employee
Invoicing per person
Project invoicing
Object invoicing: by cost objects (if in use)
Recurring work reporting
Track the performance of recurring work in your company and see the completed or uncompleted work.
Track what should or has not yet been billed.
Would you like to have a better look?
Request a free demo!
Book a free demo, no strings attached, and let Koho PSA convince you. You can save up to 87 % in invoicing with Koho PSA. The demo will give you a better view on how Koho PSA will help your accounting company succeed.